Each commercial facility has a unique set of lighting needs. From dimming and switching to enterprise-wide monitoring and management, fully integrated commercial lighting control systems provide a high degree of flexibility and energy savings while meeting those needs.
Control Service Company is a Midwest authorized distributor of Crestron lighting solutions, and has relationships with several other leading lighting companies. Through these partnerships, we are proud to offer a lighting portfolio known for quality, reliability and specificity.
We carefully consider each space and its use before configuring the optimal lighting accessories needed and the control systems to operate them. Using native BACnet architecture, we'll work to enable seamless control between DALI/proprietary lighting controls, non-digital control systems and building automation. Once installed, you'll benefit from a single lighting control panel that effectively and efficiently addresses the individual needs of each space in a building or across a multi-building campus network.
Discover how Control Service Company is Lighting the Way to Better Buildings by designing and implementing lighting solutions to optimize your commercial space.
Our team of experts can design, install, commission and support facility lighting systems to address your unique needs, including:
New construction indoor and outdoor networked lighting control

Retrofitting legacy lighting to controlled LED systems

Creating human-centric lighting systems for education, health care and commercial office environments

IoT-connected lighting systems for advanced building analytics

Unified system management interfacing through BACnet architecture and WebCTRL® BAS
The Proliferation of Human-Centric Lighting
Research has shown that manipulation of artificial light can provide an improved occupant experience, from task-based scenes for better learning environments, to helping control circadian rhythms in healthcare and office settings that can lead to improvements in mood and mental health, enhanced cognitive performance, and healthier environments. Human-centric lighting aims to focus on both the visual and non-visual effects of lighting to provide occupants all of the benefits of an optimally lit space.
Ultimately, well-designed commercial lighting control systems featuring human-centric lighting allow companies to save money while increasing occupant enjoyment in an optimally lit environment.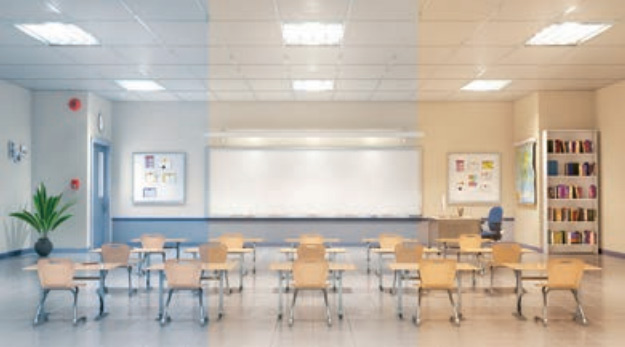 Learn about CSC's Core Services